On December 7, newly crowned world heavyweight champion Andy Ruiz Jr. will fight Britain's Anthony Joshua in a rematch, at an open-air 12,000-seat stadium in Diriyah, Saudi Arabia. Joshua was beaten by Ruiz in June, stopped in the seventh round in a huge upset at New York City's Madison Square Garden. He lost his WBA, IBF, WBO and IBO world titles, and will now seek to reclaim his belts. Looking for value in the Ruiz Jr. vs. Joshua odds? Read on to inform your Ruiz Jr. vs. Joshua prediction.
A close look at the Andy Ruiz Jr. vs. Anthony Joshua odds
Inform your Andy Ruiz Jr. vs. Anthony Joshua predictions
Andy Ruiz Jr. vs. Anthony Joshua betting: Where is the value?
Ruiz Jr. vs. Joshua: Tale of the Tape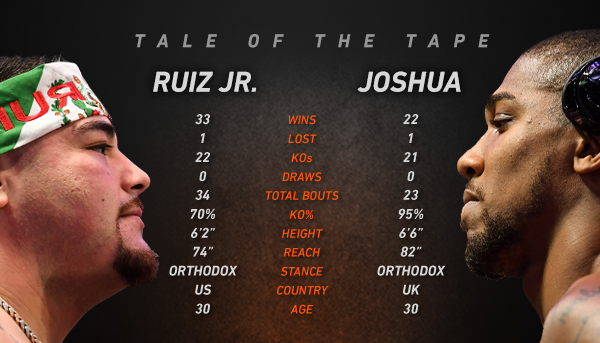 Joshua vs. Ruiz Jr. first fight statistics
Ruiz Jr's greater output and accuracy is clearly evident in the post-fight statistics. The Mexican threw double the amount of power punches than Joshua, and while Joshua threw 26% more jabs than Ruiz, he landed 12% less, which suggests his accuracy was widely off in the first fight.
Why did Joshua lose the first fight?
The first fight saw Andy Ruiz Jr. reach odds of 17.65 at Pinnacle, making it one of the biggest heavyweight title upsets over the past 30 years. Previous bouts in boxing history across the betting industry have seen Buster Douglas knock out Mike Tyson (43.0), Corrie Sanders destroy Wladimir Klitshckho (21.0), and Hasim Rahman knock Lennox Lewis out back in 2001 (21.0), which highlights just how unexpected Ruiz Jr's victory was.
Despite this, Joshua was beaten by the better fighter on the night, and exposed in certain areas of his game. The former Olympic champion didn't underestimate Ruiz's power, but did underestimate his powers of recovery. When the Brit dropped Ruiz in round three he hurriedly tried to finish the fight, which is one of the biggest mistakes a fighter can make when facing someone who possesses much faster hands than himself.
When facing a boxer who has faster hands than you, and when that fighter is also a very good counter puncher on the front foot, the last tactic they should be considering is to go into exchanges up close. Joshua looked extremely nervous and boxed in a completely reckless manner, which suggests he had doubts about the fight prior to the opening bell.
Evident flaws were also exposed in Joshua's game and there now hangs a big question mark over the former champions punch resistance. He did show plenty of heart, but his survival skills and powers of recovery were extremely poor for a unified heavyweight champion. It seems the Londoner is a fighter who when he gets hurt he stays hurt, and Andy Ruiz Jr. realised this and jumped on him to finish the fight in spectacular fashion.
How good is Andy Ruiz Jr.?
Ruiz Jr. is not the second coming of Mike Tyson all of a sudden – but he was a quality fighter long before beating Joshua. His physical appearance isn't the well-proportioned, chiselled figure that boxing bettors are accustomed to seeing, and until you have observed him fighting in the ring, it is easy to dismiss him as a fighter who isn't devoted to his craft.
As an amateur Ruiz compiled a record of 105-5, his 105 wins include two Mexican National Junior Olympics gold medals, whilst representing Mexico in the 2008 Beijing Olympic Games qualification tournaments.
In the professional ranks, the 30 year-old has climbed up the levels slowly, but outside of dedicated boxing fans had largely gone unnoticed. A WBO world title eliminator was pencilled in against Hughie Fury in 2016 only to be cancelled, so the Mexican went on to challenge WBO champion Joseph Parker, a fight he lost by an extremely close majority decision in New Zealand (Parker's home country).
Against Joshua, new environments, non-stop media work, and continuous questions regarding Tyson Fury and Deontay Wilder in the pre-fight build up gave Ruiz.Jr an edge, but improved training, and being the challenger this time around, will show whether the former Olympic champion was not at his best, or if Ruiz Jr. simply has the perfect style to beat him.
Top fighters in the past have found ways to make adjustments to opponents' styles to avenge previous losses. The issue with Joshua remains how well he can come back from humiliation, and how quickly can he adapt his style in such a short period of time to make this effective in the rematch.
The 29 year-old has been in plenty of big fights, but they were fights where he was in his own comfort zone, in familiar surroundings, buoyed on by a pro-Joshua crowd. Combine these changes with the huge pressure that he carries on his shoulders in just 22 fights, and there was always a fair probability that an upset was possible in the last fight against a fighter who is very good at fighting inside – and very well-schooled as a boxer.
Andy Ruiz Jr. vs. Anthony Joshua betting: Where is the value?
For Joshua to retain his belts he simply has to keep the fight at a distance he is comfortable. The jab and applying his physical advantages is the key to victory, and the Brit will need to produce a similar performance to how he boxed Joseph Parker – keep it long, don't engage, and spoil Ruiz up close when he tries to get into range to let his hands go – a tactic that enhances the chance of the fight going the distance.
Joshua has the natural assets (height and reach) to be able outbox Ruiz, but with that you need the concentration, discipline, and the ability to not get drawn into a fight, especially when hurt. If the former champion hasn't learnt and adjusted his style from the first fight, then the result will be the same, and possibly even more devastating, so it is important that bettors keep a close eye on both fighters' pre-fight preparations.
Wladimir Klitschko was stopped in a very similar fashion to Joshua by Corrie Sanders back in 2003, but then managed to go 20 fights at championship level without being dropped, largely thanks to the safety first approach that Emmanuel Steward installed in the Ukrainian. Joshua, like Klitsckho, needs an adjustment to his fighting style to nullify Ruiz Jr's strengths, as it was clearly evident in the first fight how poor his survival skills were when he was hurt. It might make the Brit less entertaining to watch, and it might mean that the rematch is far less exciting than the first fight, but ultimately it is the strategy he will need to adopt if he wants to be victorious.
Ruiz Jr. will have the mental edge, after dropping Joshua four times and climbing off the canvas himself to do so, but bettors should expect Joshua to be much better prepared this time around. Providing he has the challenger mentality back, then his speed, power, and explosiveness should be enough to gain his titles back, in a fight that should go longer than expected in the betting odds.