Super Bowl odds
The Patriots' talisman
An in-depth look at the LA Rams
Inform your Super Bowl predictions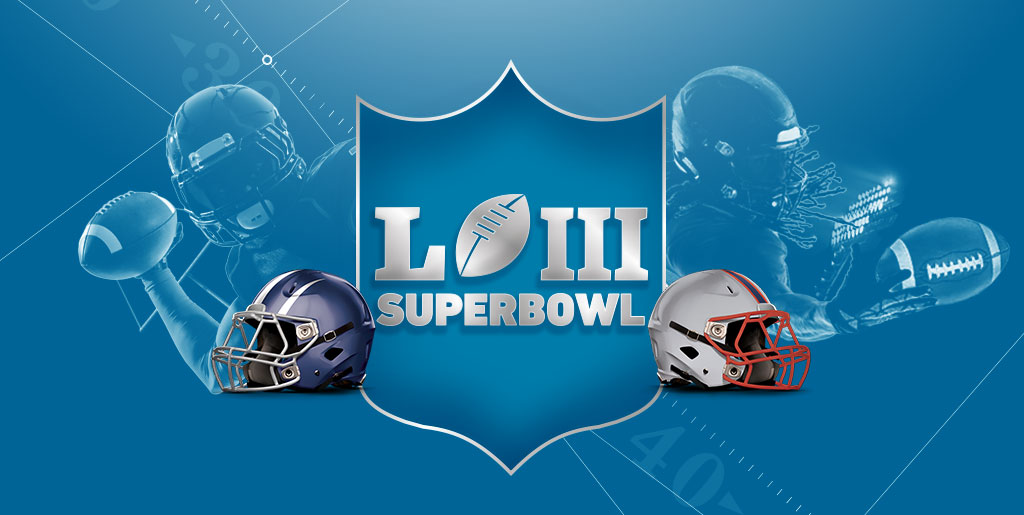 After 16 regular season games and some thrilling postseason football, there are just two sides left. What information will help you make more accurate Super Bowl predictions? Read on for an in-depth analysis of the Super Bowl odds.
Super Bowl LIII takes place in Atlanta on February 3rd when the AFC's champion, the New England Patriots face the LA Rams from the NFC.
In a league geared towards parity of talent and spreading opportunity to every franchise, it is almost incomprehensible that the Patriots will be contesting their 4th Super Bowl in five seasons and their ninth appearance involving both Tom Brady and coach Bill Belichick.
The Patriots' talisman
Tom Brady will be 42 when the 2019 season begins and other quarterbacks who reached that landmark or beyond, such as Favre, Moon, Flutie, Testaverde and Brunell, were firmly at the tail end of their careers, rather than still winning championships and contesting for Super Bowl rings.
Brady's longevity is astonishing.
He's played the equivalent of over three regular season's worth of post season games, comprising over 1500 passing attempts.
This gives us a unique opportunity to compare a player's regular season exploits, where the opposition is weaker, against how he performs in the white heat of knockout football.
Unsurprisingly, Brady's completion rate in the post season falls, but only by a couple of percent. His yards per attempt are also lower, but this may be partly tactical. Touchdown percentages also fall and interception rates rise, but again not by much.
The rate he takes post season sacks improves, compared to the regular season, perhaps signifying the importance Belichick attaches to protecting his primary asset in the winner takes all knockout format.
Trends paint a slightly more nuanced picture of Brady in the post season as he's become much more careful not to turn the ball over in the latter part of his playoff career.
Therefore, the Super Bowl Patriots of recent vintage appear to be one that protects both the ball and their quarterback and in return they get a passer who performs broadly at the same levels as during the regular season.
There are signs of age related decline in Brady's overall game, but the difference only amounts to New England fielding a very good quarterback, compared to a singularly elite one.
On the other side of the football, New England's defence has regularly belied their mediocre regular season performance efficiencies by severely restricting opponents in the post season.
The Rams' Kurt Warner was the first MVP quarterback to struggle against a Bill Belichick devised defence, when the 14-point underdog Patriots upset the then St Louis Rams in Brady's first Super Bowl win in 2001.
In a league geared towards parity of talent and spreading opportunity to every franchise, it is almost incomprehensible that the Patriots will be contesting their 4th Super Bowl in five seasons
Since then, post season opponents of the Patriots have averaged just a 58% completion rate, thrown a lower percentage of touchdowns per attempt, higher interceptions and suffered more sacks per drop-back compared to those achieved by Brady when he takes the field.
Whatever the weaknesses that appear to be present in a Belichick defence in the regular season, they always remain competitive in the post season and the Super Bowl.
All eight of the Patriot's Super Bowls, bar last season's 41-33 defeat by the Eagles have been decided by six points or fewer. They have played Super Bowls that are often undecided deep into the fourth quarter and sometimes beyond.
An in-depth look at the LA Rams
In reprising the matchup from Super Bowl XXXVI, the Rams this time take role of up and coming young quarterback, pitched against the seasoned veteran.
Quarterback, Jared Goff put an inauspicious rookie season behind him in 2016 to very nearly break into the top five passers in 2017, improving all aspects of his game.
He reverted to his 2016 form in a brief 2017 post season campaign, but maintained his regular season promise in 2018, trading better completion numbers and yards per attempt for slightly poorer interception rates and sack avoidance.
Goff again has found the 2018 post season a much more challenging environment compared to the regular season and while title winners often need to be both good and lucky, there's no escaping the conclusion that LA is fortunate to be in Atlanta.
There were contentious decisions in both championship games, but LA's implied probability of winning the NFC game would have fallen well below 10% had a late defensive penalty been correctly called in favour of New Orleans.
Games are often decided by exploiting matchups and of the two quarterbacks, the veteran Brady would appear to be more likely to replicate his 2018 regular season form in Super Bowl LII.
The Rams are just below average when defending the pass, allowing two tenths of a yards further per pass attempt than their opposing offences generally gained.
They struggle badly against the run, ceding 0.7 of a yard more per carry.
These efficiency rates are broadly in line with those of Kansas City, whom New England defeated in the Championship game, where Belichick and Brady ruthlessly exploited the Chiefs inability to cope with the run, in a departure from their more usual pass heavy format.
Brady has played the equivalent of over three regular season's worth of post season games, comprising over 1500 passing attempts.
The Patriots' defence boasts similar efficiency frailties to the Rams, but as they've shown over the Belichick era, in the divisional game against the Chargers and the first half of the championship match against the Chiefs, they are adaptable and clever enough to slow down any team over a single encounter.
Therefore, based on Brady's long history of playoff football, Goff's much more limited resume and Belichick's confounding defensive schemes, New England would appear the more likely to hold the upper hand offensively.
Inform your Super Bowl predictions
Scoring rates fail to split the sides at a neutral venue, with 54 points expected to be scored and although this is where the line generally opened, sustained support for the Patriots did briefly push the line to LA +3, a key number.
Top rated regular season quarterback, Patrick Mahomes failed to overturn the Patriots last week in Kansas City, although New England did trade at odds against deep into the fourth quarter.
So, we'll take note of the weight of history, a similarly promising, but slightly less accomplished opposing passer in Goff and side with a likely final hurrah for Brady & Belichick and with a volatile line take the Patriots on the outright market.